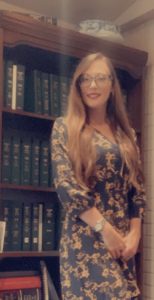 Donna was born and raised in Knoxville. After graduating Powell High School in 2008,
Donna moved to Monterey and decided she knew it was where she wanted to call home.
Donna received her Certified Nurses Assistant license in September of 2010. Donna then
began to work in the nursing field for a nursing home and for Cookeville Regional Medical
Center for over six years. The nursing field gave her experience in direct patient care and
customer service.
During this time, Donna had two children, Andrew and Lillian. Donna and her family live
in Monterey.
In May 2016, Donna graduated from Tennessee State University, giving her a career as a
paralegal. For the next two years Donna worked in the legal field gaining experience in
office management, leadership, customer service, time management, organization and
legal knowledge. Donna wanted a career driven by family values and wanted to work for
a company that will focus on growing her career as a paralegal. Donna found her home in
the Gothard Law family as the paralegal and has been part of the team since March 2018.
Donna purchased her families forever home in April of 2021, she has demoed the home
and plans to renovate the entire home herself in hopes of restoring the charm of the 1952
farmhouse.
In Donna's spare time, she enjoys spending time with her family, renovating farmhouse
furniture, diy projects and outdoor adventures.